An over view of Bami
Bami is a financial city in which the currency used is BAMI (Bami Token). In Bami city, the citizens (users) use BAMI for trades, exchanges, investments, including: Bami Dashboard, Bami Exchange, Bami Lend, Bami Portfolio, Bami Pay, NFT.
Bami is a multichain financial application that aims to bring permissionless money solutions to the mass, built to integrate interchain solutions in savings, payment, trading, money market, etc.
The demand for free financial products is booming in Vietnam. Bami wishes to focus on the Vietnamese market with the goal of creating practical values for Vietnamese users through financial products on blockchain. However, Bami will limit itself to the Vietnamese market - it will expand to the international markets.
Bami – DeFi as a Service
Bami focuses on user experience first and foremost. We believe the next billion users will be onboarded through the abstraction of complexities in Blockchain applications.
Bami is built with transparency and openness in mind. We stand on the shoulders of giants and in turn, continue to carry the ethos. The platform will be open-source and the protocol will be owned and governed by you – the community. BAMI token will be used to capture the value of the Bami protocol, allowing its value to grow linearly with the ecosystem. The token will also allow the community to guide the ecosystem growth path.
Bami is built for mass adoption, thus, low cost is imperative. Launching it first on Binance Smart Chain makes sense due to the large user base and cheap tx cost. However, we understand that composability is the key to unlock the full power of Defi. Bami will be chain-agonistic. Bami plans to expand to Ethereum as the layer-2 solution matures. We are optimistic! In the future, the community can decide whether Bami should be on other layer-1 chains as well when there is demand.
Bami is developing these key products:
Bami Dashboard
Bami Exchange
Bami Lend/Borrow
Bami Portfolio
Yield Farming
Bami NFT
Bami Pay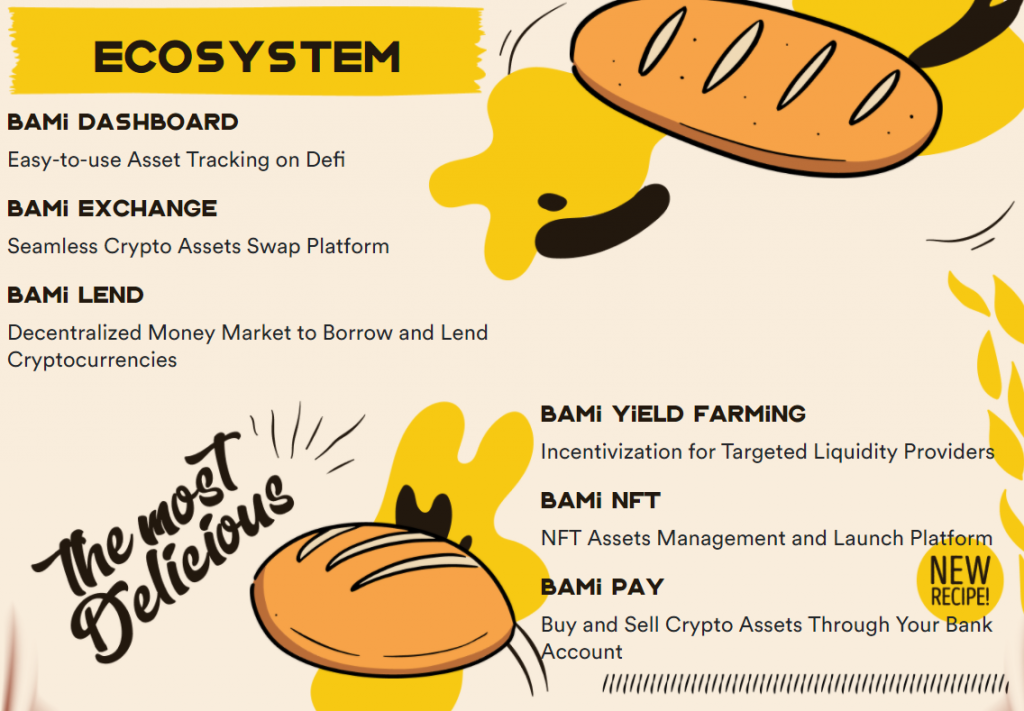 Bami's products and features
Bami Dashboard
Bami is built to address the complicated UI that has been halting billions of users from joining the Defi world. Bami Dashboard is the first attempt to bring an as-simple-as-possible interface to users.
With Bami Dashboard, users can see their full financial portfolio. With its user-friendly interface, Bami desires to enable low-tech users to reach financial products offered on blockchains.
Bami Dashboard will remove the complexity of blockchain and make it easier for you to manage your finances. In addition, you will be able to participate in decentralized applications right on the Dashboard interface.
Bami Exchange
Bami uses the AMMs provided by Pancake swap to fulfill orders.
With the Bami Exchange feature, you can freely swap between BEP-20 tokens.
Bami also plans to expand to Ethereum as the layer-2 solution matures.
Bami Lend/Borrow
Bami Lend - a financial solution that allows users to borrow and lend assets on a decentralized system. Users can earn extra income by depositing assets into the protocol and receiving interest. In addition, in case you have any financial needs but don't want to sell your assets, you can collateralize them to borrow other digital assets and pay interest on your loans
Bami Lend/Borrow will also integrate with other Lending Platforms, which will help to automatically allocate your crypto assets into such platforms to earn extra interest.
Bami Lend/Borrow does not directly store your assets. Bami uses smart contracts to interact with MetaMask, Coinbase, Fortmatic and Trust Wallet, etc, thereby, users still keep control over their assets, ensuring the security and decentralization of the system.
The income generated from the service fee will be shared among BAMI stakers.
Bami Portfolio
Bami Portfolio brings easy portfolio management with predefined strategies or actively managed by investment professionals.
Bami Portfolio is a non-custodial and permissionless protocol. Anyone can set up a fund while remain absolute privacy, or invest in a fund managed by others with transparency and clarity that can be verified 24/7.
Bami Pay
Buy and sell crypto assets through your bank accounts, wallet applications or credit cards in VND using VNDC Wallet Pro as the gateway.
Liquidity Provider và Yield Farming
Liquidity providers can be anyone able to supply equal values of each of the two tokens in the exchange contract. In return, they are given tokens from the exchange contract which can be used to withdraw their proportion of the liquidity pool at any time. Whenever someone trades on the exchange, the trader pays a 0.3% fee which is added to the liquidity pool.
To expand liquidity for VNDC and facilitate token allocation for users of the Bami ecosystem, Bami is launching a bonus program for users to create liquidity on Bami.
Liquidation pools allow you to send LP tokens to farm BAMI. The reward per pool will depend on the number of depositors and the rewards of that pool.
Staking Pools
Staking Pools allow new projects to promote their platforms to the Bami community by distributing a portion of tokens to BAMI investors.
The Staking Pools are divided into two sections:
Core: The project will be selected by Bami's team.
Community: The project is voted by the community.
NFT
This is a special product of the Bami ecosystem that promises to offer unparallel benefits to users in the near future.
BAMI token
The BAMI Token (BAMI) is Bami Protocol's governance token. BAMI token is designed to capture the profits of Bami Protocol, allowing its value to scale with the ecosystem. Bami distributes protocol fees to BAMI stakers base on the locking period and the number of tokens staked.
BAMI use cases
Staking: Users can stake BAMI to receive a share of the profits Bami Protocol earns. Investors holding BAMI tokens are the owners of the Bami ecosystem.
Reducing transaction fees: BAMI locked in Vault helps users to reduce transaction fees.
Engaging users: In the future, Bami will add incentives to encourage users to use the platform, and based on users' activeness, they will receive a certain amount of BAMI in return.
Providing liquidity: Users can use BAMI to provide liquidity and receive profits in return.
Governance: BAMI holders will receive vBAMI – the governance token of Bami Protocol. Users can vote for the features they want to apply using the vBAMI tokens.
NFT transactions: BAMI can be used for payment and NFT transactions on Bami NFT Marketplace
Summary
Most of the world's population is underserved when it comes to financial solutions. Decentralized finance is giving people more freedom, self-sovereign and financial independence.
DeFi will do to banks what the Internet did to newspapers. Bami will help to simplify the issues that haven't been addressed by other Defi platforms.
Bami is built with Vietnamese bread as the symbol, assisting Vietnamese users to access the decentralized finance world. Nevertheless, the Bami platform is not limited to the Vietnamese market but desires to expand its services to international users.